***
If you enjoy the Alaska Stalker, please consider supporting working moms like me by sending in hot tips, screencaps, overheards, and spotted ins. You can reach me at [email protected] As always, thanks for reading.
***
Let's all take a moment to recognize Congressperson Mary Peltola for her amazing achievement. 🙃
***
What a beautiful moment on a historic day. Congratulations!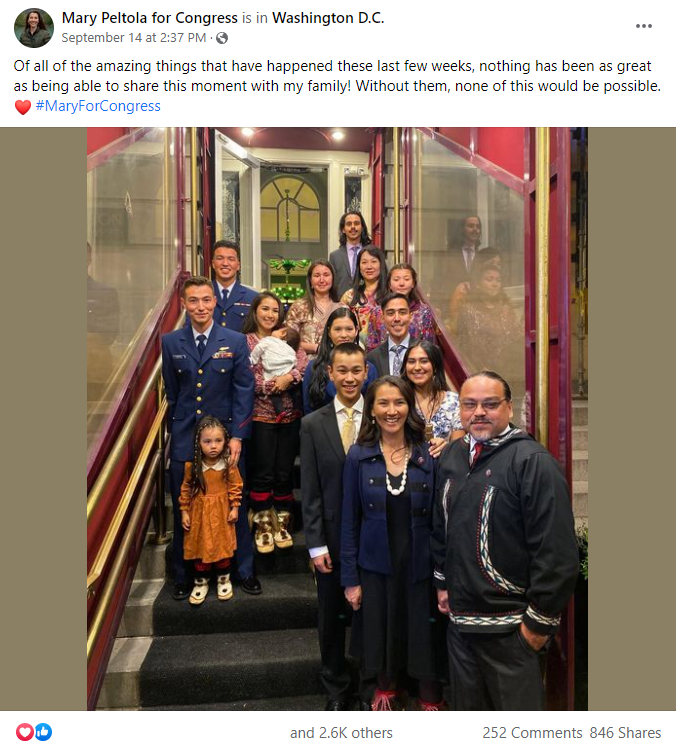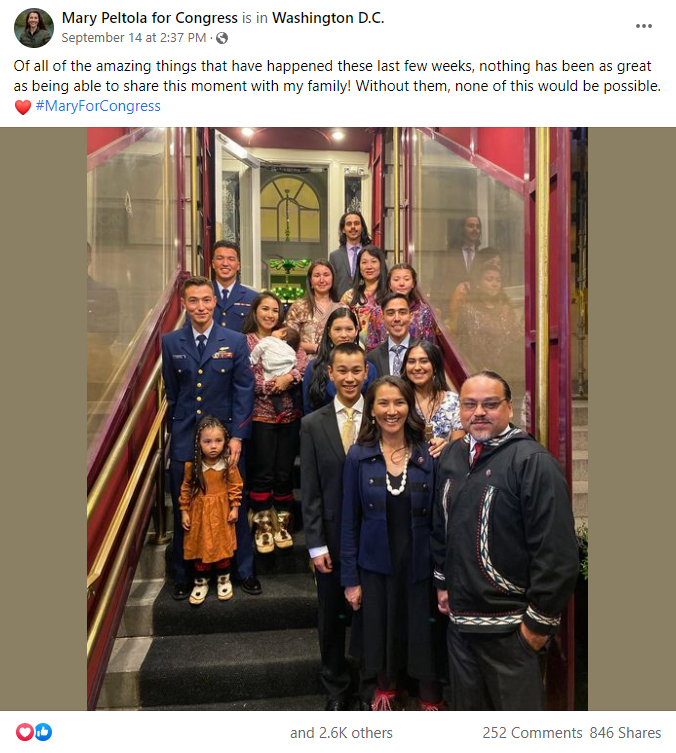 ***
Although her popularity is skyrocketing, Mary seems to be taking it all in stride. Just look at her reply to Mark Hamill! 💁‍♀️

***
Back in Alaska, races are heating up and it's time for an Alaska Stalker sign report! I feel like there's been a sharp increase of signs with candidate's faces on them. With so many new legislators expected in Juneau this year, I suppose it's a good way to start getting to know all those unfamiliar faces.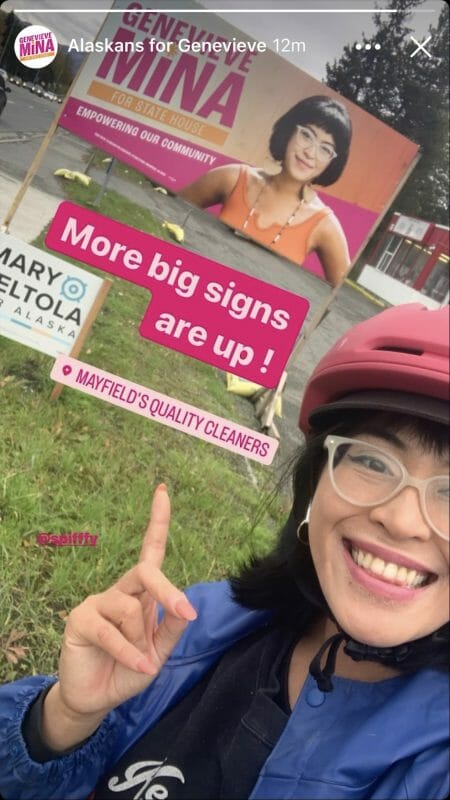 ***
Maxine Dibert went with her face AND power yellow outfit combo. Looks like she's having fun hanging out with some buds. 🍻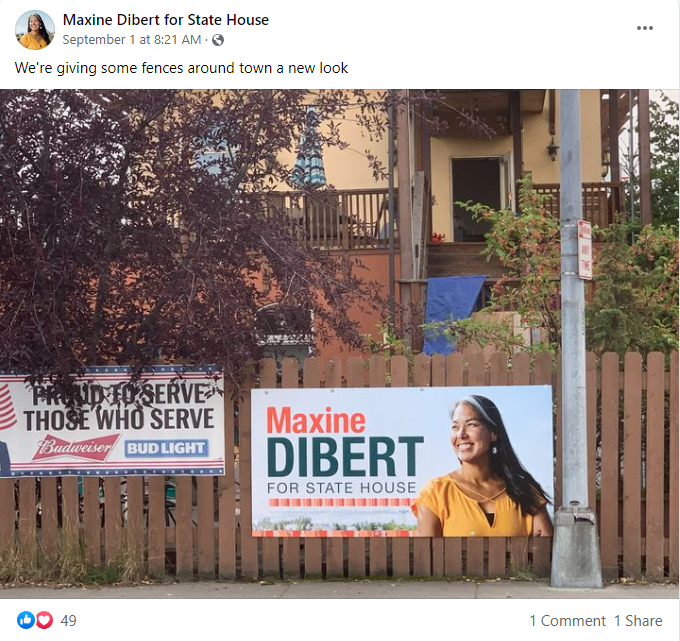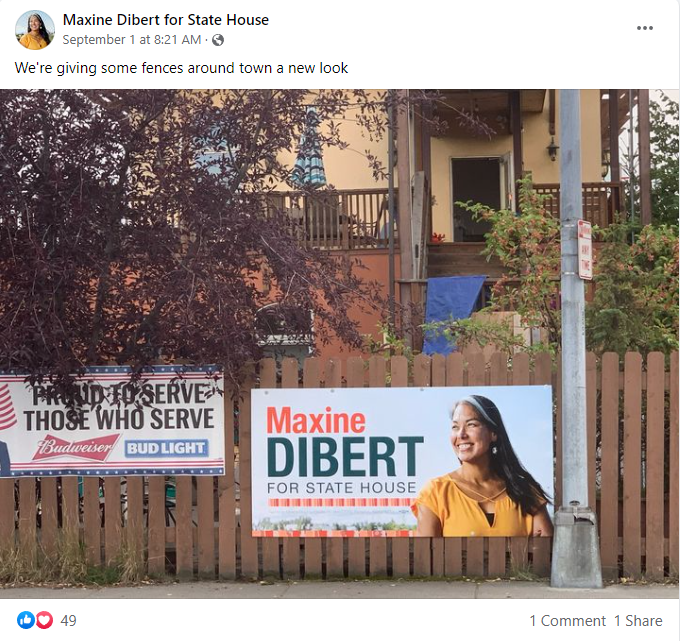 ***
Steve Menard also went with yellow – a bright yellow lightening bolt in the middle of his signs. You'd think he'd pick literally any other color to try and distance himself from #peegate. But, no. Menard gonna Menard. The Make Alaska Great Again and TERM LIMITS add on signs are a nice touch.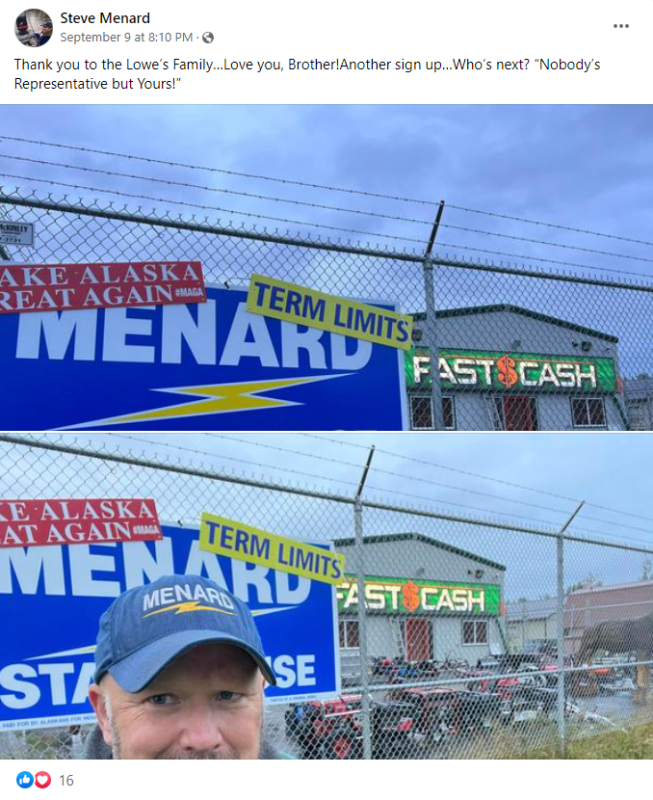 ***
Up in Fairbanks, Borough Assembly candidate Barbara Haney is leaving the lights on – debuting her solar powered lighted signs. 💡💡💡 WOW. I foresee a new trend.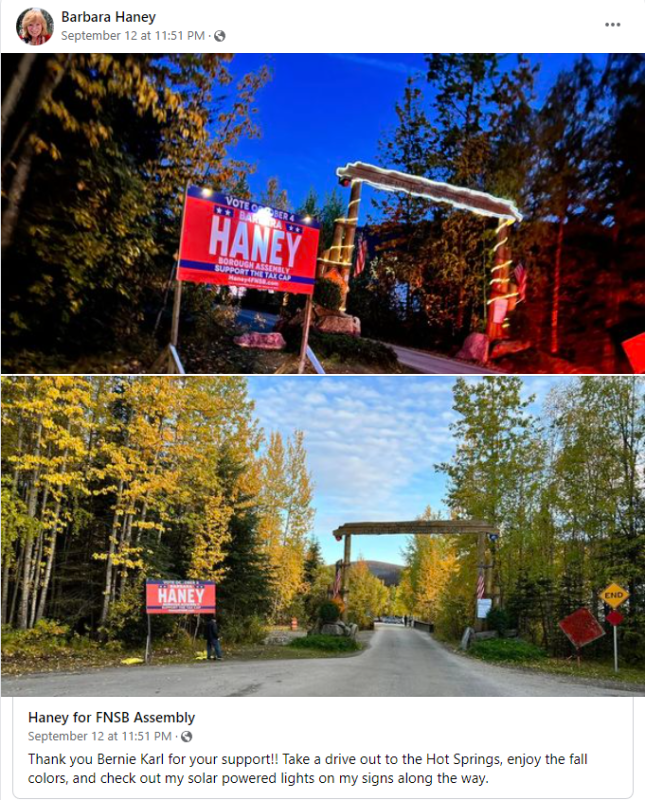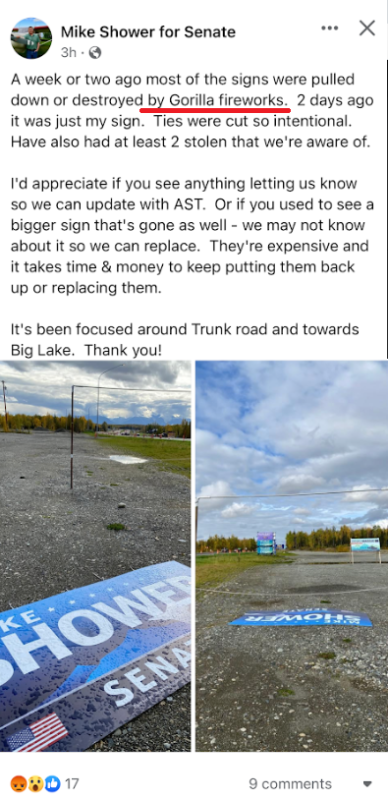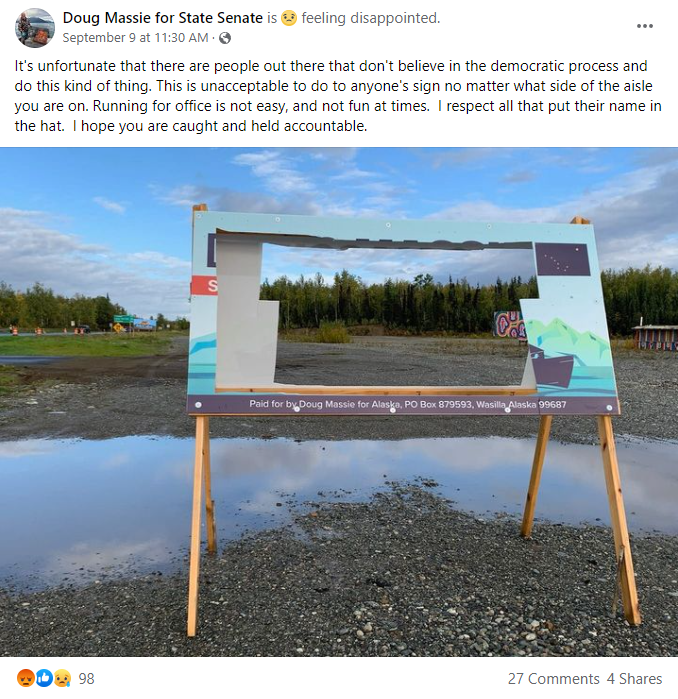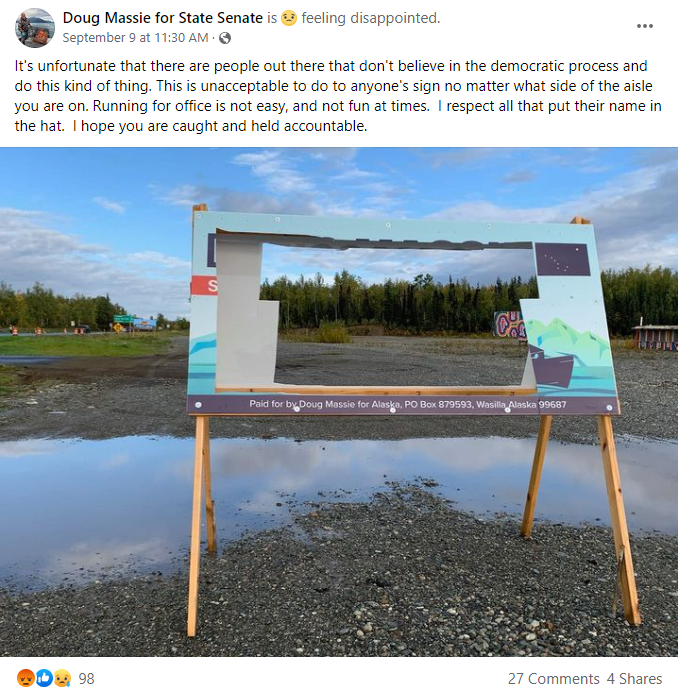 ***
Doug seems to be taking it personally. I am pleased to report I have not yet been unfriended. Either he decided to go with the stealth unfriending approach or he grew some thicker skin; moments after posting this rant it mysteriously disappeared…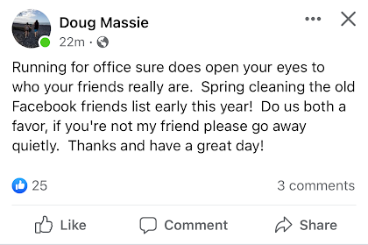 ***
The vandalism (and deleted posts) continue, this time up in Fairbanks. 👀💰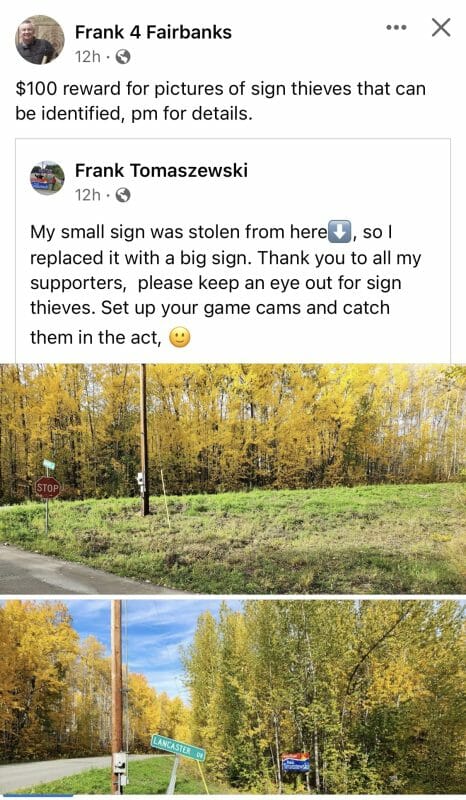 ***
Last, but certainly not least, Lisa Murkowski signs continue to be defaced from Fairbanks down through the Peninsula. While sign vandalism is nothing new, it does seem to be a bit out of control this year.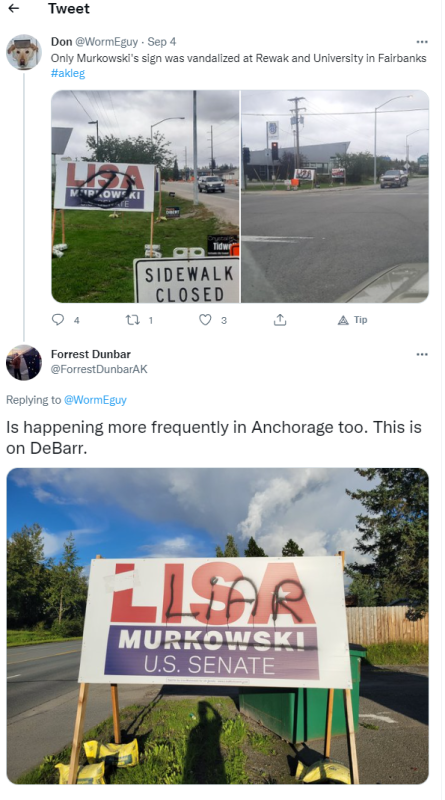 ***
Rep. Sarah Vance spilled some lukewarm tea on her Facebook page (someone told someone else she is pro-banning books or something 🥱), and now Rep. Kevin McCabe is officially challenging her to a rumor contest! Okay, I'll bite. I hear Kevin pays less property taxes than me yet has an actual hanger on his 40 acre recently renovated property. Hold on to that beer, Kevin!!!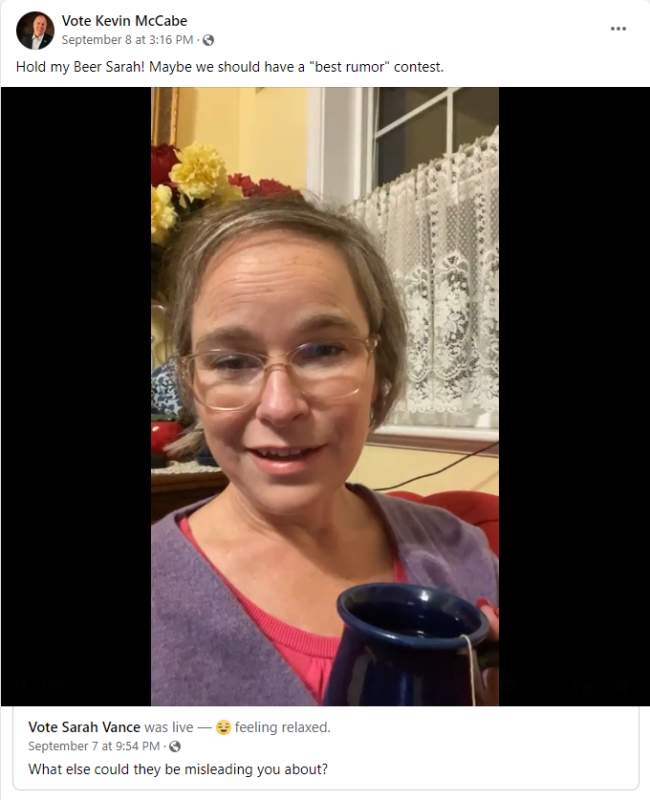 ***
*Squints* I don't see the word "elected" but I do see several words that describe our elected officials on the board. I will let the readers decide if I mean sage, saner, roaches or anger.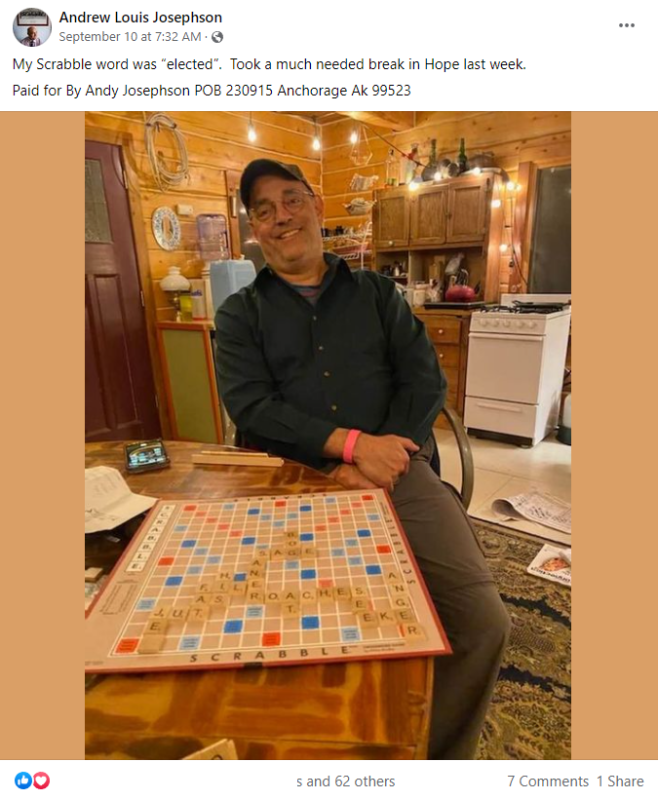 ***
Matt, I know Halloween is right around the corner, but this ad is creepy AF. 🙅‍♀️❌👎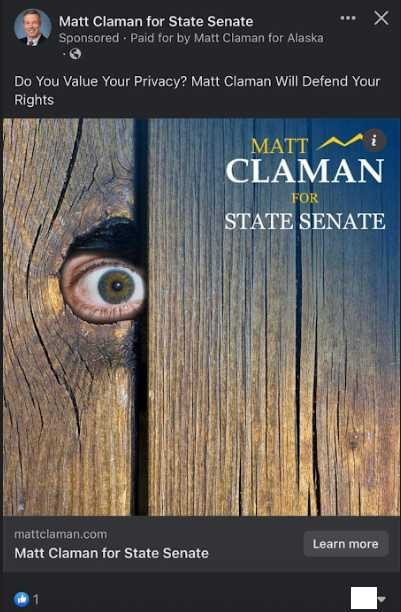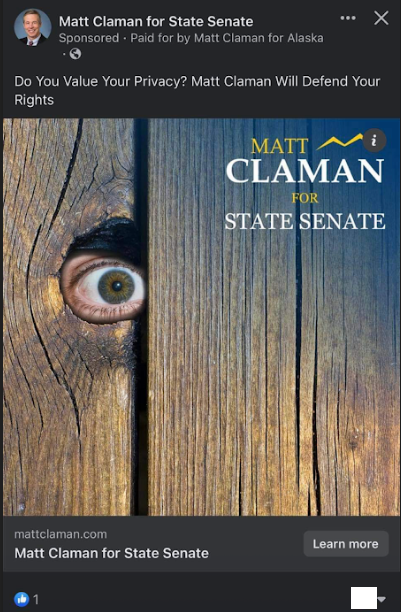 ***
Poor Rep. McKay would like everyone to know he's having a very sad day because he cannot access the Zoom link for the Alaska Educational Forum. SAD.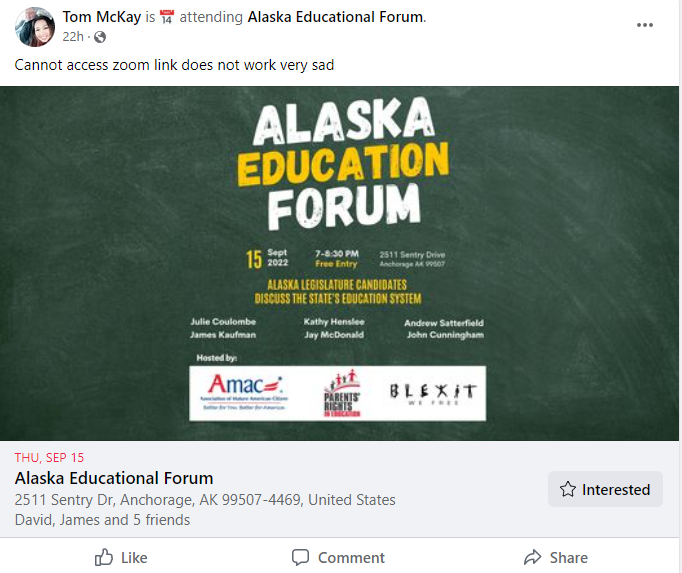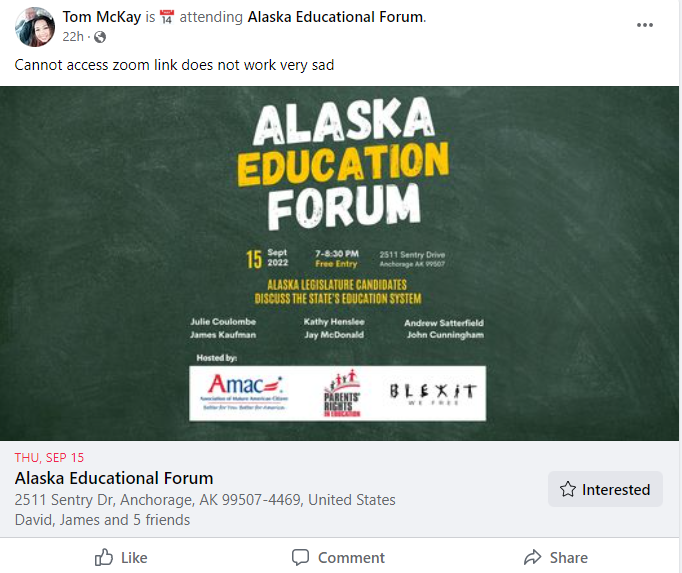 ***
Rep. Geran Tarr would like everyone to know it's her birthday. Happy birthday Geran, love Geran.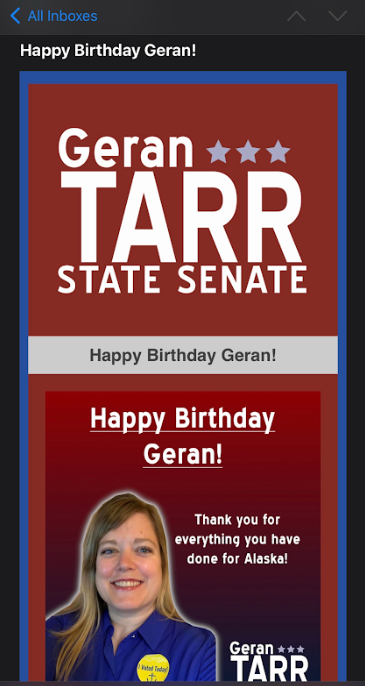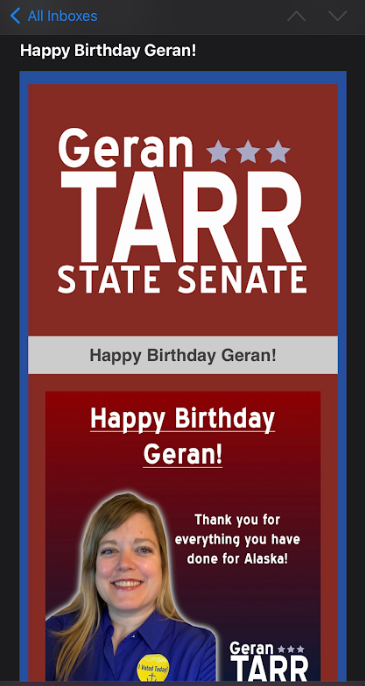 ***
"One of us had to give" = I'm losing.
***
Dang, the sparkly vampire on the peninsula has Rep. Gillllllhammm so shook he's misspelling his own name.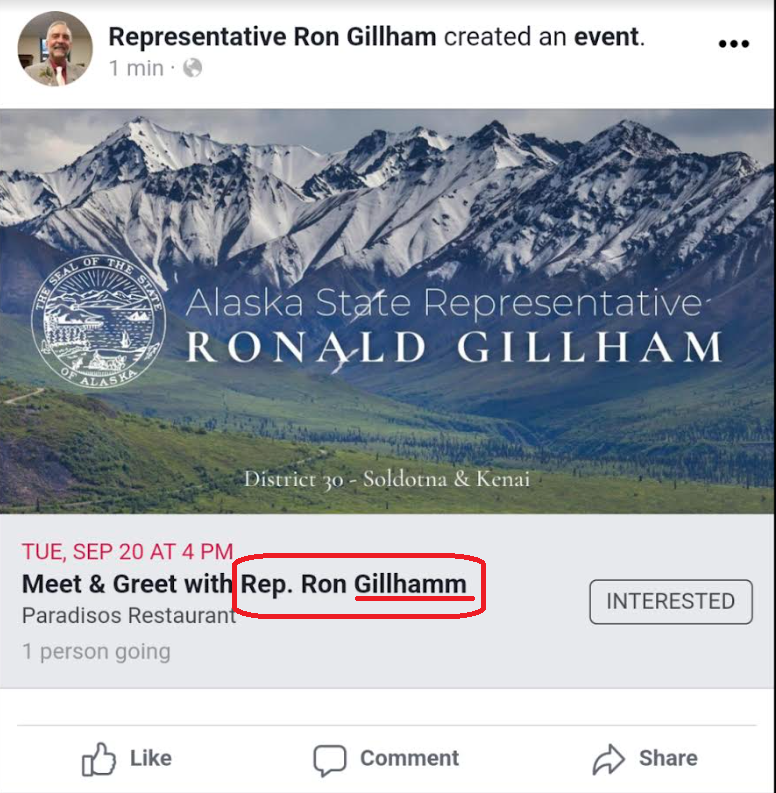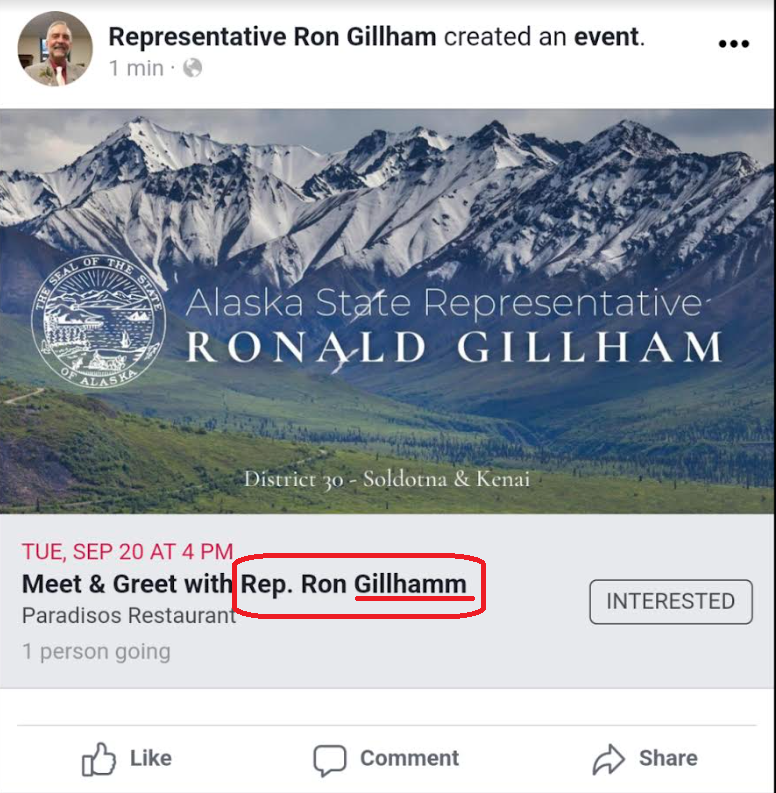 ***
YOU WILL NEVER GUESS WHO THIS IS. Welcome to one of my favorite "Guess the Legislators" of all time. Scroll to the end to find out who this is.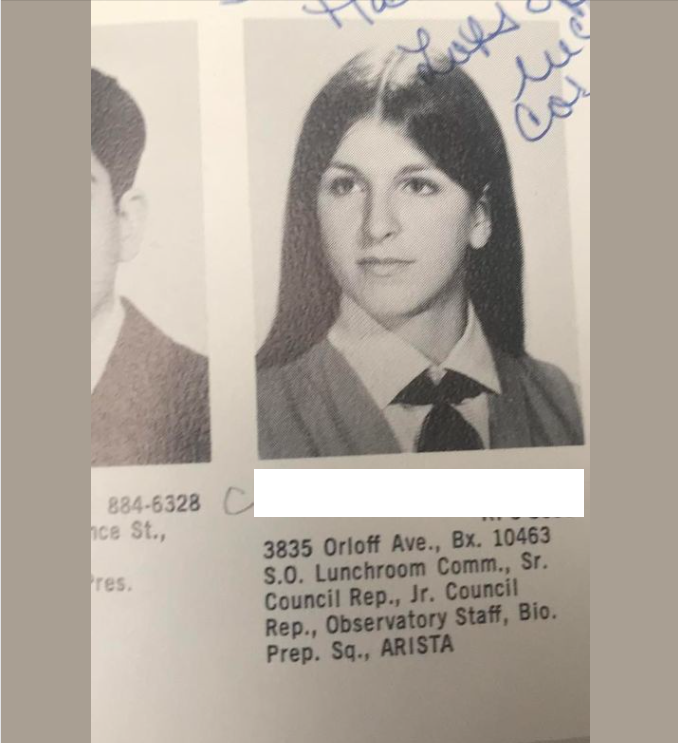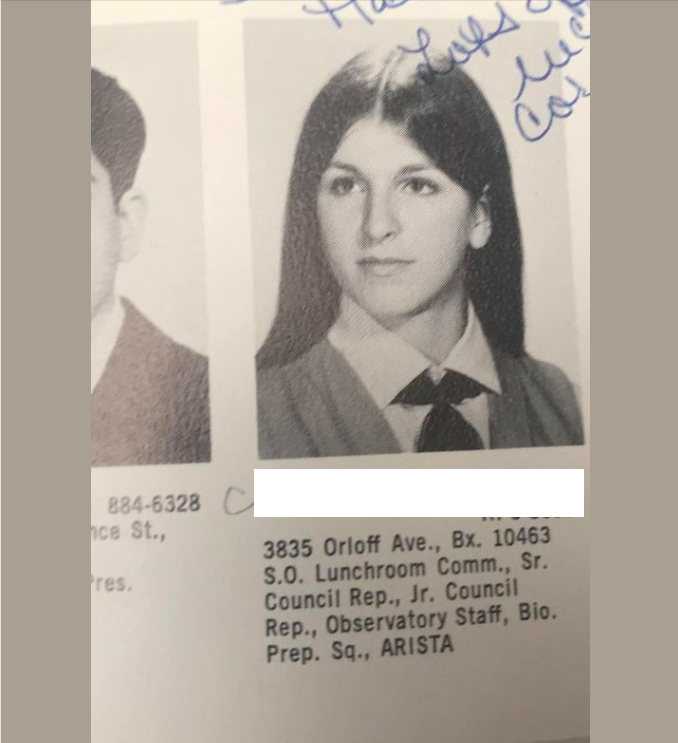 ***
I would have pegged Pat Chesbro for a funicular gal, not a stairs gal. Maybe it's not open yet.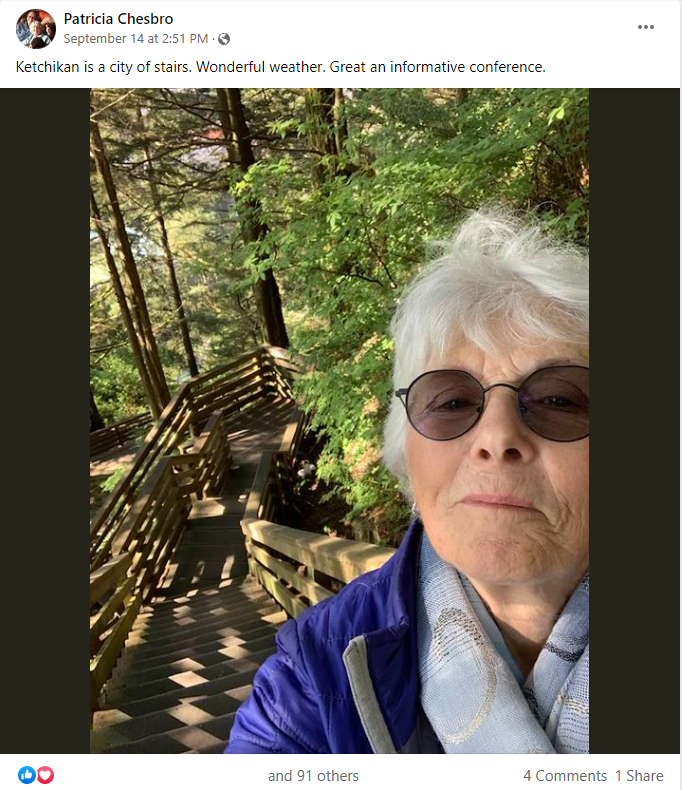 ***
Yes, I am aware this is a Caroline Storm stan column now, but I just love how she addresses her public speaking fears, and how she's overcoming them on the campaign trail. 🥰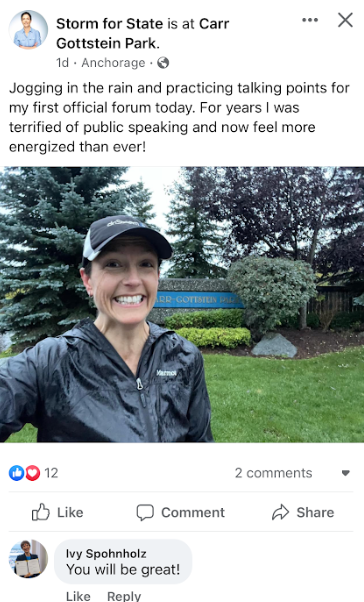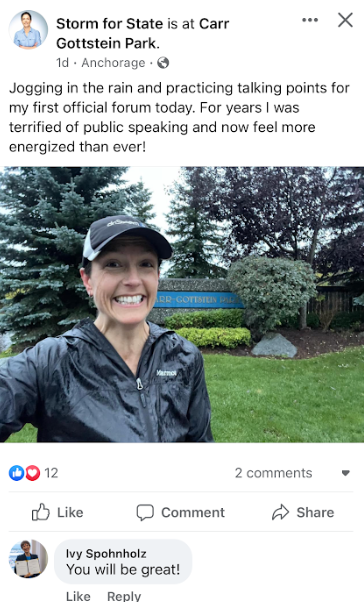 ***
A new approach!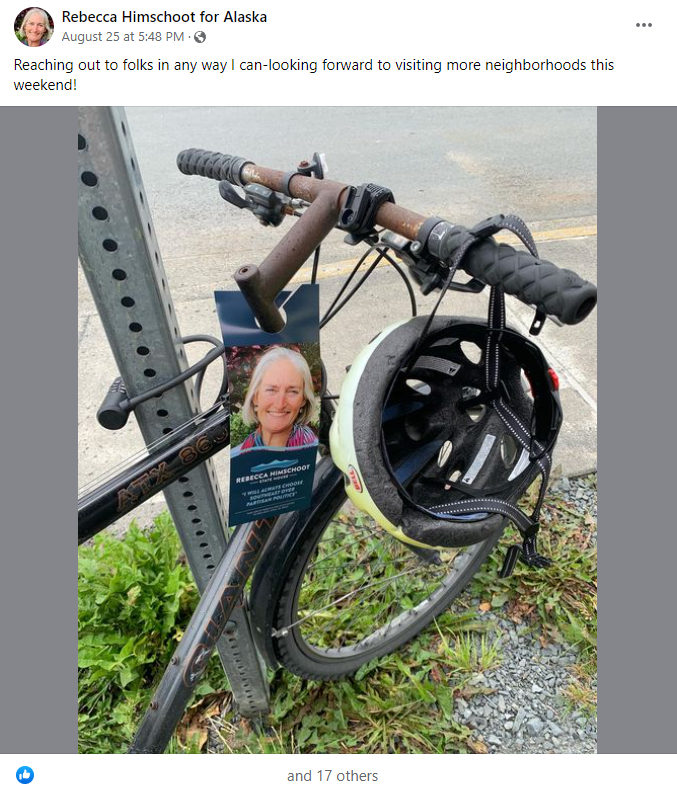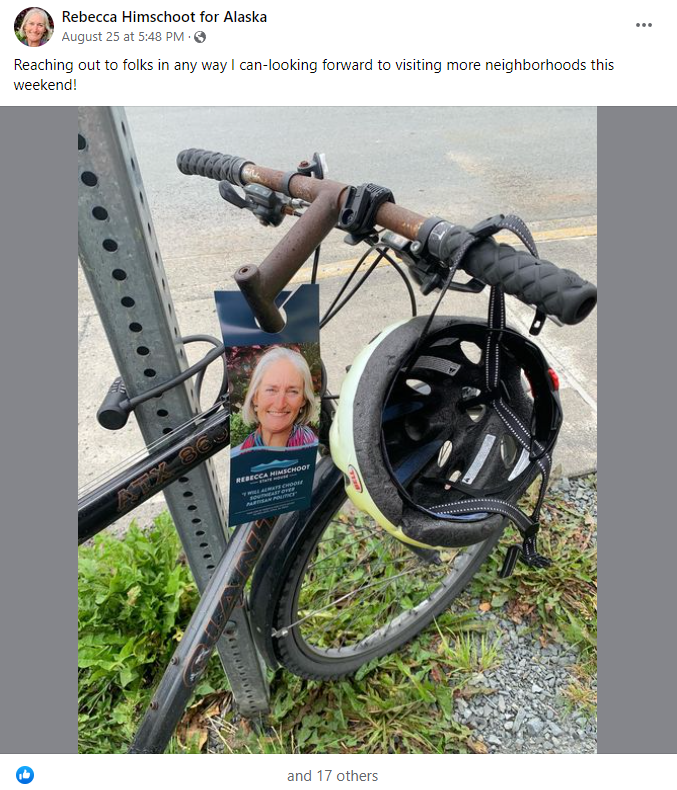 ***
Take it from Genevieve Mina: stop trying to make vetch happen. She's not a regular politician, she's a cool politician. IYKYK.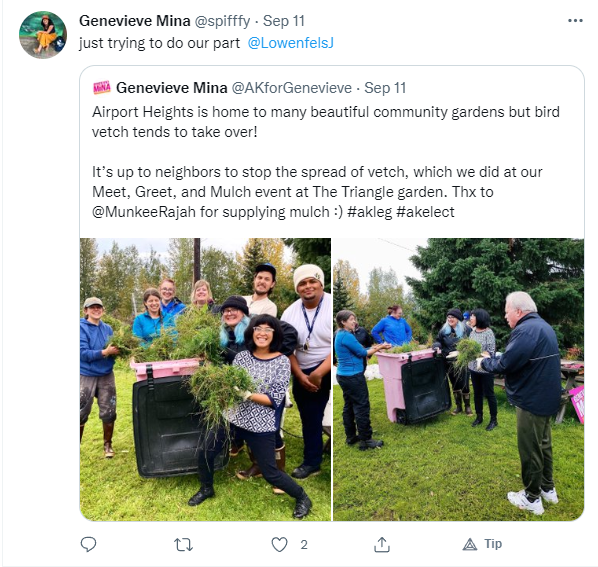 ***
I'm having trouble embedding it, but State House candidate Ruben McNeill has a contender for weirdest  most Alaska campaign video of the week. Filmed with his iPhone while on top of a ladder (in Xtratufs, natch) Ruben outlines his platform of freedom, faith and hard work all while filling his heating oil tank the old fashioned way.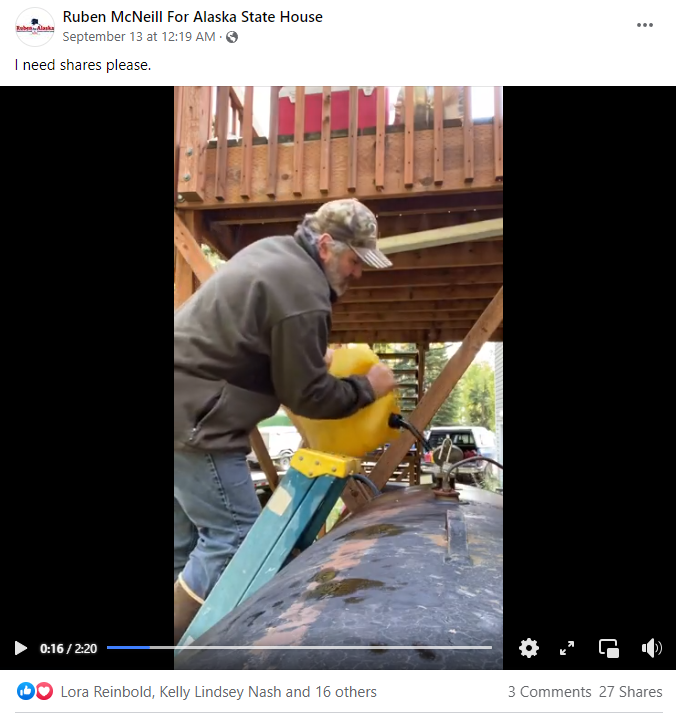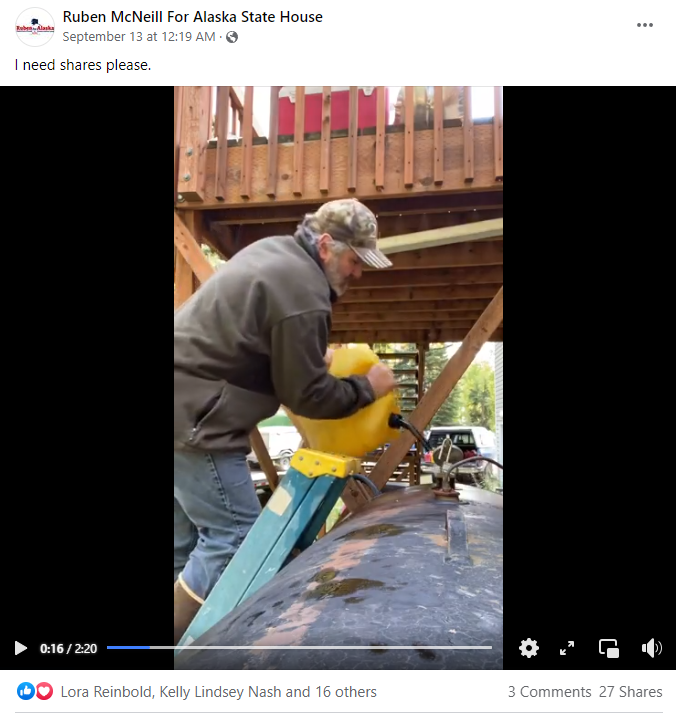 ***
Give it to Tuckerman Babcock to spell Chesbro, Murkowski and Tshibaka correctly, but not the word and. 🤣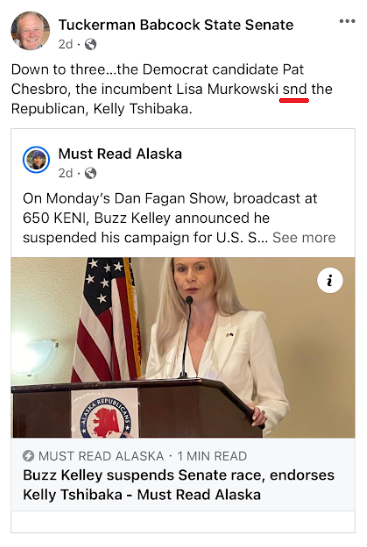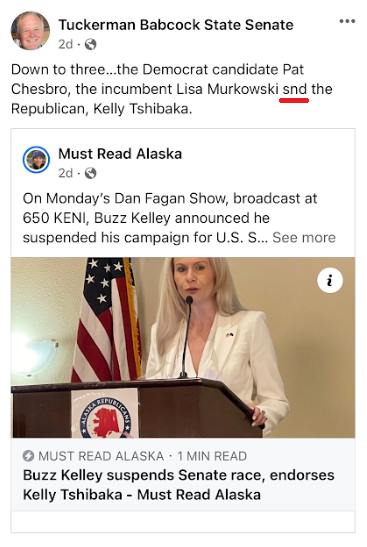 ***
The Senate is going to be wild next year. Do you think in addition to Kuspuk Fridays they'll have Carhartt Tuesdays or something?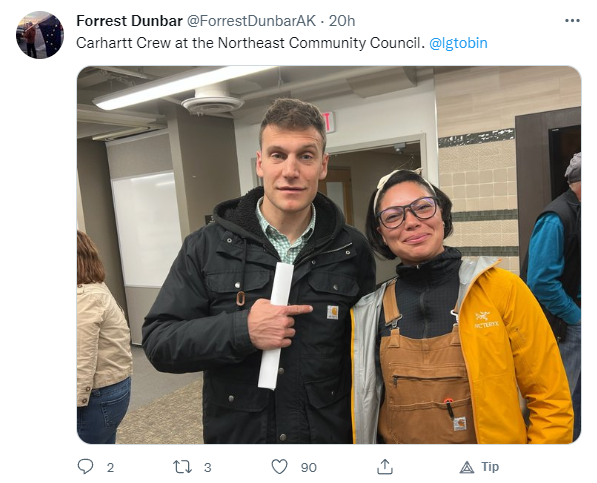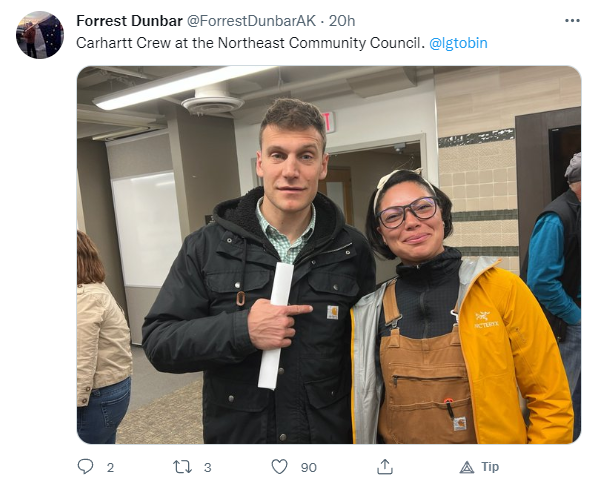 ***
Knock, knock Forrest and Löki . There's a new addition to the Carhartt Crew! I 'm sure they'll welcome Sarah with open arms.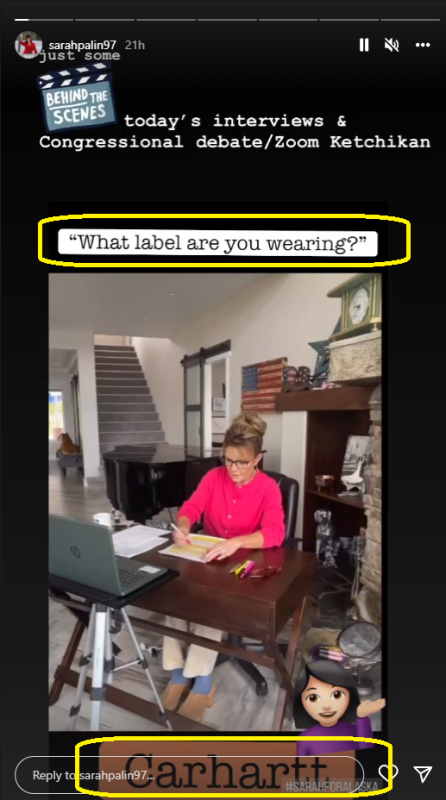 ***
On one side the Walker campaign is literally cuddling with puppies. On the other side…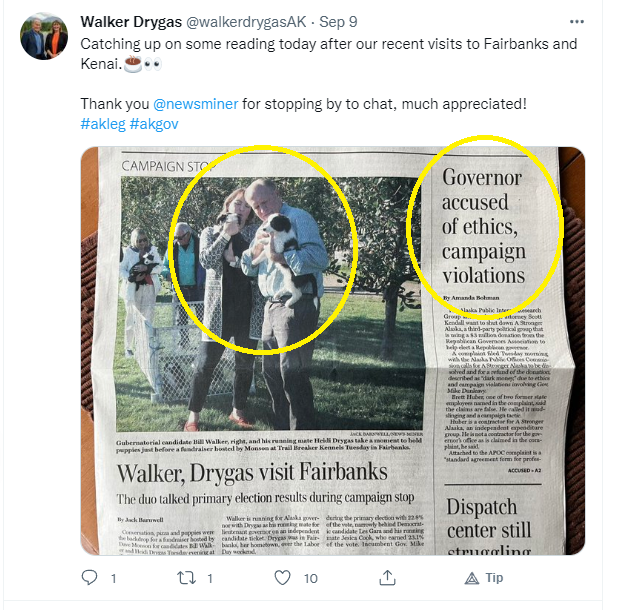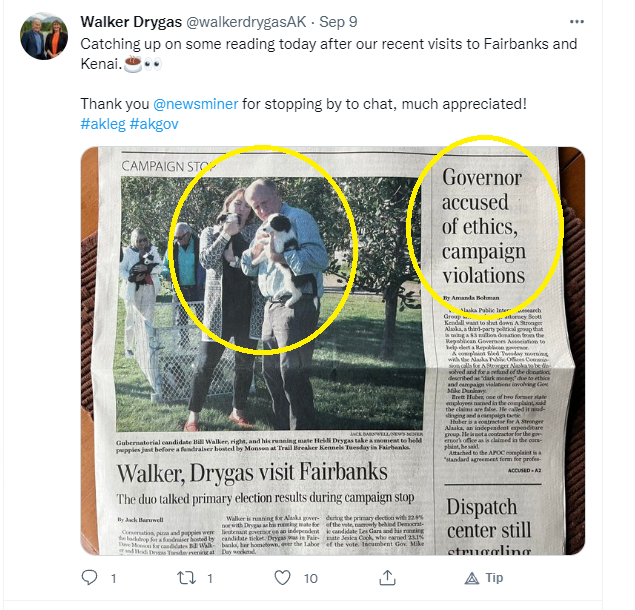 ***
Earlier this week I saw a concerning thread on Twitter that encouraged doxing and violence against local elected officials: seven Republicans and one Democrat. Popular Alaska Twitter personality Hrrrl Scouts poised the question, "Which ak politician should I challenge to fight before I leave the state? For long-standing personal beef I'm leaning towards Matherly, but there's so many needing a slap." Folks recommended Hrrrl throw food on Governor Dunleavy, punch and publicly publish Rep. Eastman's cell phone number, punch Fairbanks Mayor Jim Matherly, "adjust Dunleavy's plane so he pulls a Begich" and more. Truly sick stuff.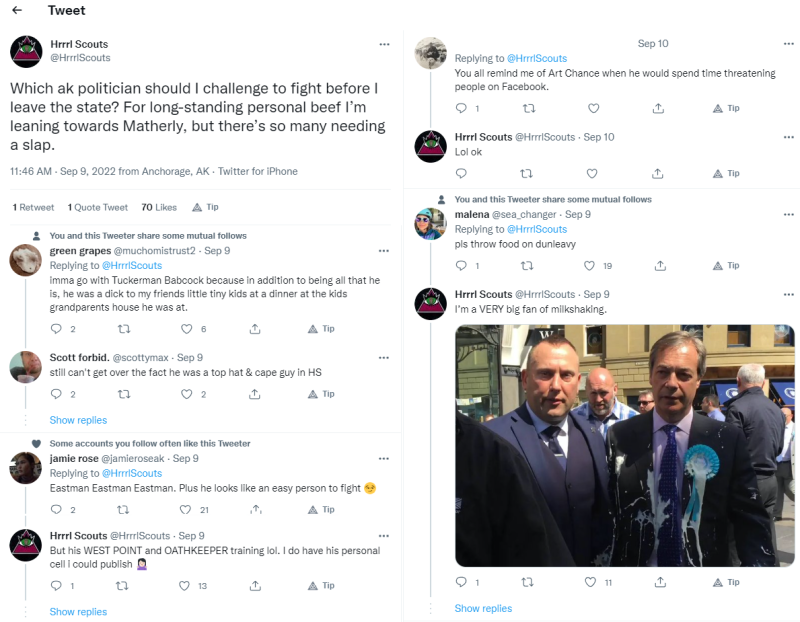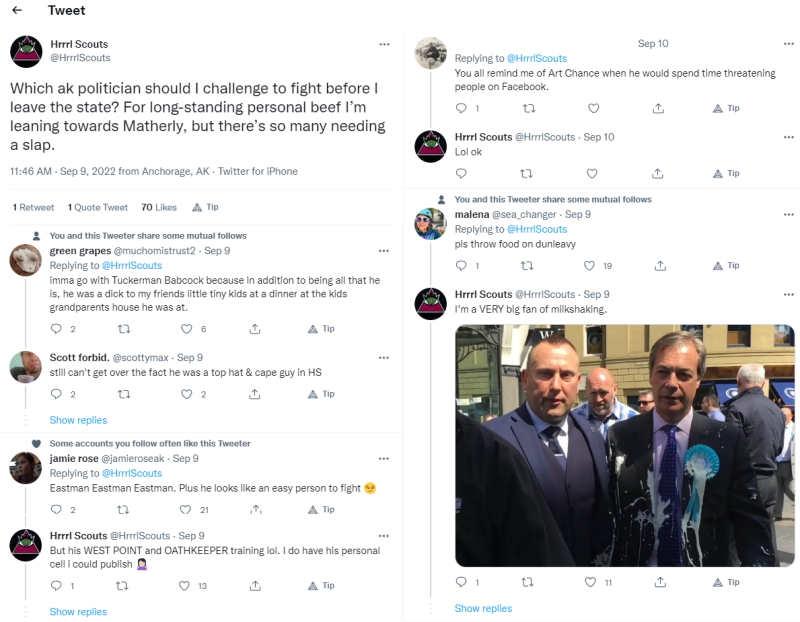 ***
Hrrrl Scouts isn't just some unknown account. She is very involved with Alaska politics, regularly live tweets Anchorage Assembly meetings, and was recently described as "an important asset to the Anchorage Left" by the East Anchorage Book Club podcast, hosted by State House candidate Andrew Gray. A brief look at her account showed these prominent Alaskans follow her:
Elected officials: Rep. Sara Hannan, Rep. Ivy Spohnholz, Rep. Harriet Drummond, Sen. Bill Wielechowski, Sen. Mia Costello and North Pole Councilmember Santa Claus. Candidates: Les Gara, Donna Mears, Denny Wells, CJ McCormick, Pat Chesbro, Jennie Armstrong, Maxine Dibert, Andrew Timothy Gray, Genevieve Mina and Cliff Groh. Journalists: Liz Ruskin, Tom Hewitt, Julia O'Malley, Dermot Cole, Matt Buxton, the Anchorage Daily News, Kyle Hopkins, Elizabeth Harball, Alaska Beacon and Matt Tunseth. Politicos: Melanie Bahnke, Randall Kowalke, Pat Race, Nora Morse, Erin Kirkland Brady, Jason Grenn and many, many others.
Shockingly, none of these people spoke out against the violence of our public officials. Poor Rep. Zack Fields!!!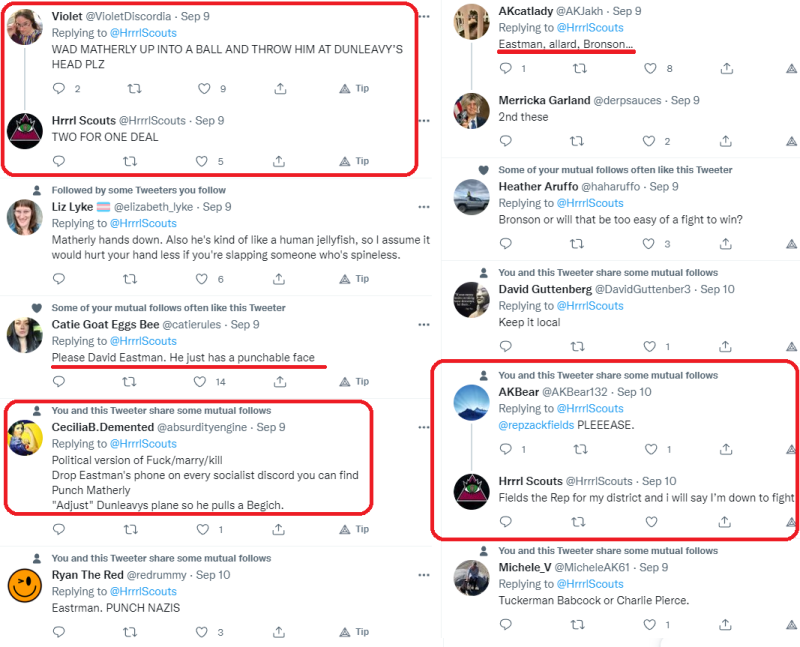 ***
Most alarmingly, Sen. Scott Kawasaki publicly "liked" Hrrrl's tweet. Kawasaki is running against Matherly for the State Senate seat. Is Sen. Kawasaki condoning violence against his opponent? You would think one of the dozen or more journalists that follow Hrrrl's account would think to inquire. Luckily, the Landmine is on the case!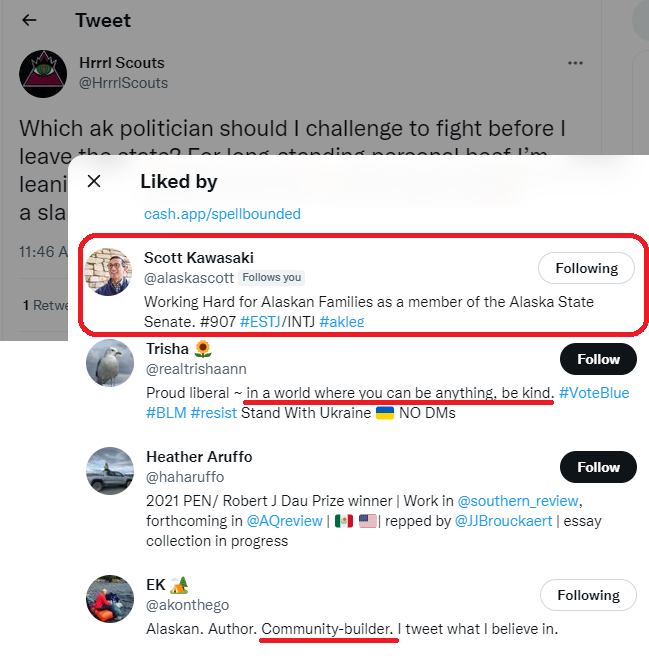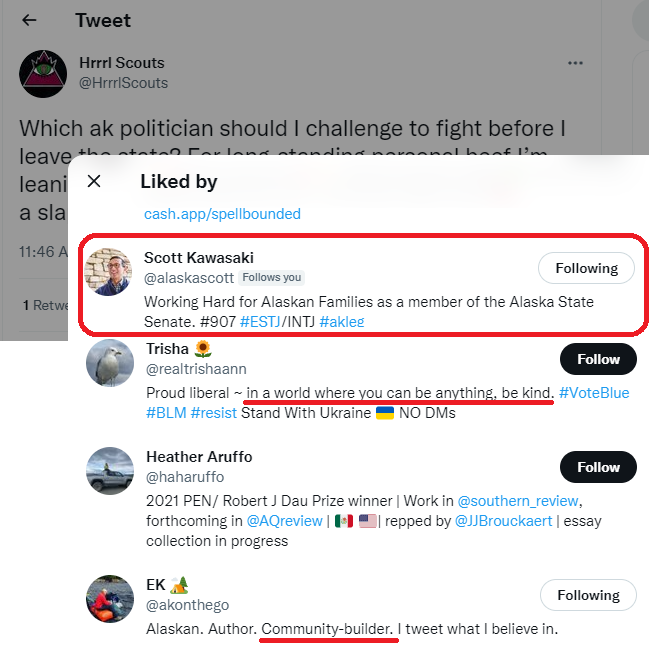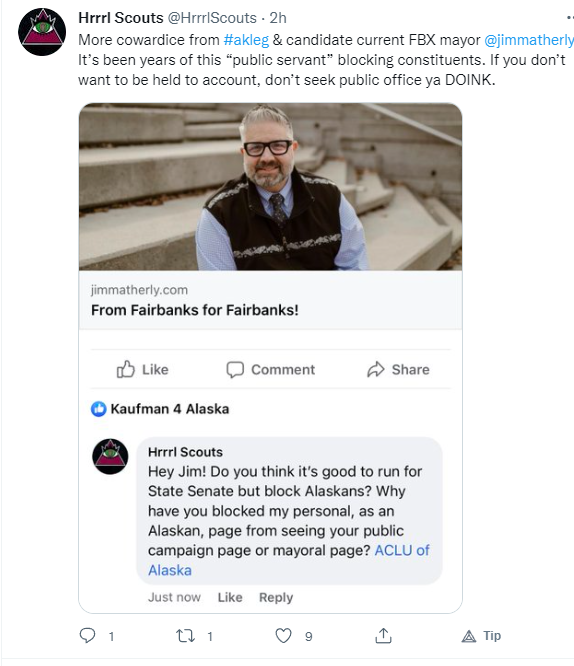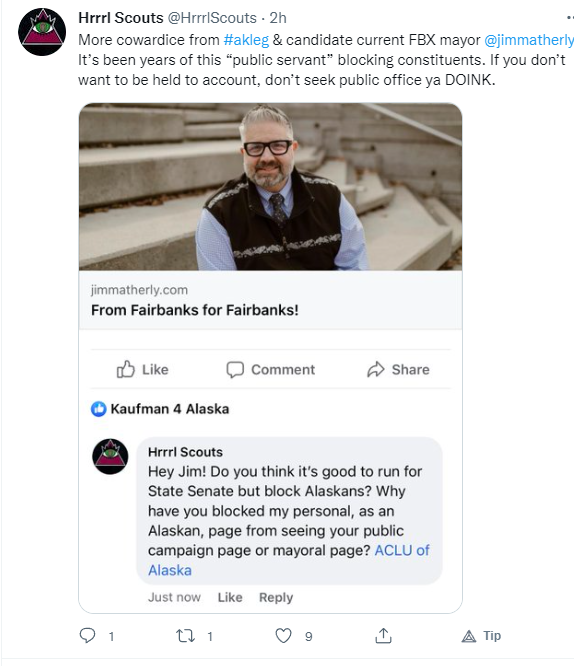 ***
Sent to the Stalker: What, no Pat Chesbro on the Yard Sign Rodeo ad? Also, pretty sure I spotted some Kelly Merrick signs at this event. So weird Pat and Kelly didn't make the cut! 🤣🤣🤣

***
Spotted at Costco on Dimond: Sen. Roger Holland loading what appeared to be eight dozen eggs into his truck. You know, the one with the giant campaign sign in the back.
***
Overheard in Midtown Anchorage: "Can't wait for the inevitable to happen this fall: if Sarah loses, it's rigged. If Mary loses, it's racism. And, if somehow Nick wins, it's sexism."
***
Sent to the Stalker: "Mike Porcaro has the patience of a saint. Every day he walks the same listeners through how to do ranked choice voting. He gets through his whole spiel and then they say, "Okay, I think I get it now. I'm just going to rank Sarah 1 and 2." or "Okay, I think I get it now. I'm going to rank Nick 1 and Mary 4." And then it's just silent for a beat, while Mike dies a little inside and starts his explanation all over again."
***
Spotted in Washington D.C. during Congressperson Peltola's swearing in ceremony: Sen. Lisa Murkowski, Sen. Dan Sullivan, former Sen. Mark Begich, Sen. Tom Begich, Sen. Elvi Gray-Jackson, Rep. Zack Fields, Rep. Harriet Drummond, and many more.
***
Spotted at Kriner's Diner: OMG, DID WE FIND CHARLIE?!!! Alas, it's just Edie. Charlie is still too busy working on his campaign to be seen in public.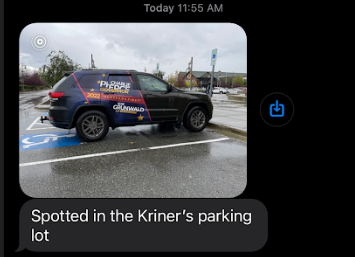 ***
Drumroll please….. The answer to "guess the legislator" is….
Rep. Harriet Drummond!!!!!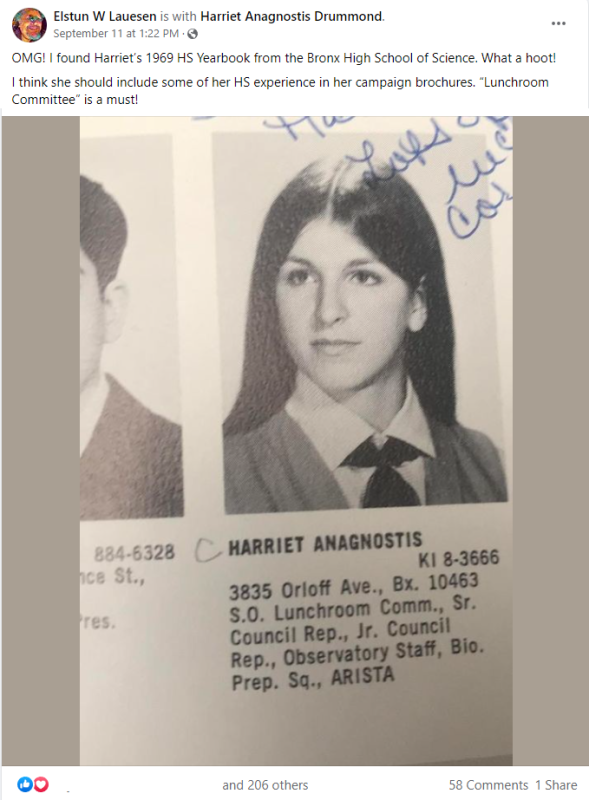 ***
The Alaska Stalker was born and raised in Alaska. She lives
in South Anchorage with her husband and three kids five and under. She is not Jeff Landfield.