14 min ago
Fed's big rate hikes could lead to economic and earnings downturn
From CNN Business' Paul R. La Monica
Market experts are worried that the Fed's series of aggressive rate hikes could slow the economy (as well as profit growth) more than investors currently expect.
"The Fed almost always over-tightens because it uses lagging indicators," Tom Porcelli, chief U.S economist with RBC Capital Markets, told Alison Kosik on the CNN Business "Markets Now" show. "It has to wait for everything to be out in the open."
Porcelli, who expects the Fed will raise rates later Wednesday by three-quarters of a percentage point for the third consecutive time, added that a full percentage point hike is unlikely despite strong inflation data because Powell hasn't prepared Wall Street for such a big move.
"He does not want to spook the market," Porcelli said.
Still, even another 75 basis point hike will likely hurt the stock market. That's because the series of big rate increases should eventually lead to a slowdown in profits and the economy.
"People haven't considered the amount of earnings declines and the impact on the markets," David Bailin, chief investment officer with Citi Global Wealth Investments, told Kosik.
Bailin said it's possible that stocks could fall back to their lows of the year from June. And he added that the "boldness" of the Fed's moves probably won't be fully felt in the job market for another three to six months.
"There's a real risk to the economy. It's why we're worried about corporate earnings next year," he said.
1 hr 15 min ago
Jay Powell is about to go full Volcker
From CNN Business' Allison Morrow
To understand the Fed's thinking, it helps to get inside the mind of its chairman, Jay Powell. 
In his role as the central bank chief, he's made no secret of his admiration for Paul Volcker, whose name is practically synonymous with fighting inflation at all costs, even if it crashes the economy into a recession, as Volcker's Fed did — twice — in the early 1980s. 
Powell, in his now notoriously blunt Jackson Hole speech last month, appeared to fully embody his predecessor when he declared that "we must keep at it until the job is done" — ("it," being rate hikes and "the job" being tamping down inflation.) That was an explicit reference, whether he intended it or not, to the ideology of Volcker, whose 2018 autobiography is titled "Keeping At It." 
During congressional testimony in the spring, Powell said of his hero: "I think he was one of the great public servants of the era — the greatest economic public servant of the era."
Part of the reason Volcker is remembered so favorably is because it took a savvy mind and an iron stomach to even confront the problem of rampant inflation, and then implement the painful shock therapy of interest rate hikes that cost millions of people their jobs. Volcker's plan worked, but it wasn't easy. There was indeed some pain, in modern Fed parlance.
Powell faces a similar conundrum. Inflation is the highest it's been since Volcker ran the Fed, and the central bank itself is facing a crisis of credibility after not moving fast enough to keep rising prices in check.
Credibility was a big concern for Volcker as well. 
"Volcker's mantra, one he told me again and again through 2008-9, was that in a crisis the only asset you have is your credibility," Austan Goolsbee, an economist who advised the Obama administration, wrote in 2019 just after Volcker died at age 92. 
If Powell continues to draw from the Volcker playbook, it's safe to assume his hawkish leadership is here to stay until inflation gets down to the Fed's target rate of 2%. 
1 hr 21 min ago
Key bond yield hits highest level since 2007
From CNN Business' Paul R. La Monica
The market is betting on more big rate hikes from the Federal Reserve…and that's pushed the 2-year US Treasury yield to 4% for the first time since October 2007.
Investors look closely at the 2-year, especially how it is moving in comparison to the more widely watched benchmark 10-year Treasury yield. The 10-year is now hovering around 3.56%. The fact that the 2-year yield is higher is a phenomenon known as an inverted yield curve.
An inverted yield curve has historically been an accurate predictor of a recession down the road, especially when the curve is inverted for a lengthy period of time and if the curve widens. That's the case now, as the 2-10 curve, which briefly flipped in April, has been inverted since early July.
The surge in these shorter-term bond rates is largely a reflection of the expectations that the Fed is nowhere close to ending its series of large rate increases. Jerome Powell has talked about how inflation is the Fed's main focus right now and even has suggested that there will be "pain" for consumers and businesses as it continues to raise rates.
Powell will talk more about inflation and the economy at a press conference at 2:30 pm ET following the Fed's rate decision announcement at 2 pm.
3 hr 22 min ago
US stocks open higher ahead of Federal Reserve announcement
CNN Business' Nicole Goodkind
US stocks opened slightly higher on Wednesday as investors eagerly anticipated the Federal Reserve's interest rate policy decision.
The central bank is expected to announce a 0.75 percentage point rate hike on Wednesday afternoon. Investors will also be closely watching for clues about future rate hikes and the Fed's commitment to balance economic growth with controlling inflation.
The Dow rose by 147 points, or 0.5%, on Wednesday morning.
The S&P 500 was up 0.5%.
The Nasdaq Composite was 0.4% higher.
2 hr 36 min ago
Jamie Dimon is worried about too much regulation
From CNN Business' Paul R. La Monica
The Fed's rate hike won't be the only big news coming out of Washington on Wednesday. The CEOs of seven of the nation's largest banks are testifying in a hearing before the House's financial services committee. (The bank chiefs will do it again Thursday in front of a Senate committee.)
Expect the bank CEOs to be grilled about consumer lending practices. But the CEOs are also likely to lament how Washington is making their jobs harder.
According to prepared remarks, JPMorgan Chase (JPM) CEO Jamie Dimon, arguably the most well-known of the top bank heads, is set to say that "the continued upward trajectory of regulatory capital requirements on America's already fortified largest banks, particularly when not reflective of actual risk, is itself becoming a significant economic risk."
Dimon claimed that too many rules and restrictions are "bad for America, as it handicaps regulated banks at precisely the wrong time, causing them to be capital constrained and reduce growth in areas like lending, as the country enters difficult economic conditions."
He said that big banks have to do things that are "illogical…like reducing mortgage exposure in order to drive down assets."
"Strong and resilient banks that can support the American economy through a crisis are key to American growth and competitiveness," Dimon added.
The CEOs of Citigroup (C), Bank of America (BAC), Wells Fargo (WFC), Truist (TFC), PNC (PNC) and US Bancorp (USB) are also testifying on Capitol Hill Wednesday and Thursday.
3 hr 38 min ago
The market needs to watch this data from the Fed
From CNN Business' Paul R. La Monica
Investors should keep a close eye on the Fed's projections for the unemployment rate, gross domestic product growth and inflation when it publishes its latest quarterly forecasts this afternoon.
In June, the median expectations called for the jobless rate to hit 3.7% at the end of 2022. The unemployment rate hit that level already in August.
The Fed was predicting GDP growth of 1.7% for 2022 three months ago, down from a projection of annualized growth of 2.8% in March. Considering that GDP contracted by 0.6% in the second quarter, following an even steeper drop in the first quarter, it seems unlikely that the Fed will be raising its growth forecast for this year.
And then there's inflation. The Fed will give projections for its preferred inflation metric, the personal consumption expenditures index, or PCE. In June, the Fed was forecasting an overall PCE increase of 5.2% for 2022, up from 4.3% in March.
The government reported in August that PCE rose 6.3% in the 12 months that ended in July. That was down from a 6.8% increase in June…which was the highest in four decades. Since then, gas and oil prices have fallen sharply.
But another inflation measure, the consumer price index, showed a continued spike in the price of food and other goods in August.
3 hr 53 min ago
Keep an eye on the dots after Fed announcement
From CNN Business' Paul R. La Monica
The Fed is going to raise rates later today. By a pretty sizable amount too. But how much higher do central bankers think rates need to go in order to quash inflation?
We'll get more clues this afternoon.
That's when the Fed will also publish its latest dot plot, which shows the projected target range for interest rates by the end of the year (in a series of dots) from all of the Fed's members…including those who don't currently have a vote on the rate-setting committee.
Based on the last dot plot from June, the median expectation for where rates would finish 2022 was 3.4%, up sharply from a forecast of just 1.9% in March. But estimates for where rates will end this year are almost certain to climb higher given that the market largely thinks the Fed will hike rates by 75 basis points this afternoon, to a range of 3% to 3.25%.
There's even a small probability of a full percentage point increase today and there are no signs that the Fed plans to pause any time soon either. So investors should expect the dots for 2023 to creep higher as well. In June, the median range for rates was 3.8%, up from 2.8% in March.
4 hr ago
US dollar hits new 20-year high as Russia calls up reservists
From CNN Business' Julia Horowitz and Anna Cooban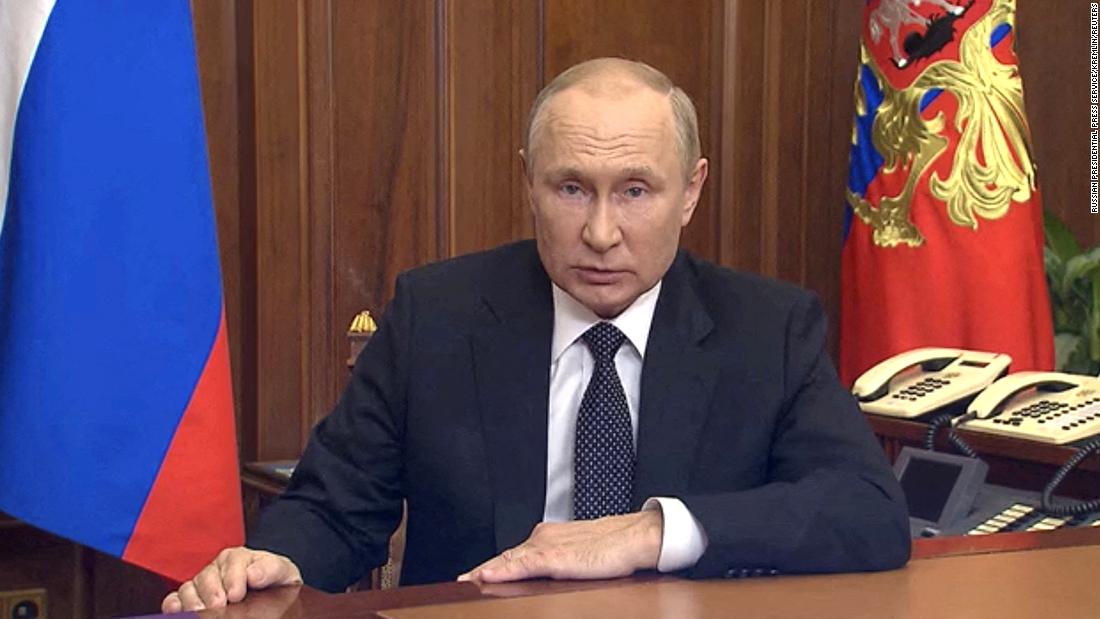 The US dollar climbed to a new two-decade high on Wednesday after Russia said it was mobilizing 300,000 military reserves in an escalation of the war in Ukraine.
In a televised national address Wednesday, President Vladimir Putin announced an immediate partial mobilization of Russian citizens and threatened to use "all the means at our disposal" to defend Russia "and our people." He also referenced the potential use of nuclear weapons.
The speech pushed the greenback up 0.4% against a basket of major currencies to its strongest level since 2002. Investors often seek safe haven in US dollar assets during times of geopolitical tension.
Oil prices also jumped. Brent crude futures, the global benchmark, gained 2.5%, rising to just below $93 per barrel.
Russian stocks slid 3.5% Wednesday after the announcement, adding to heavy losses incurred Tuesday after Putin threatened to hold referendums to annex parts of Ukraine still occupied by Russian forces. The ruble also dropped nearly 3% against the US dollar.
Asian stocks pulled back. While indexes in Europe initially dropped, they were last flat or slightly higher in morning trade ahead of the Federal Reserve's latest policy announcement.
5 hr 42 min ago
Stocks rise tepidly ahead of consequential Fed decision
From CNN Business' David Goldman
US stock futures rose a bit after tumbling Tuesday. Investors will be closely watching the Federal Reserve's policy decision at 2 pm ET and Jerome Powell's press conference at 2:30 pm ET for clues about future rate hikes and the Fed's commitment to balance economic growth with controlling inflation.
Dow futures were up 60 points or 0.2%.
S&P 500 futures rose 0.2%.
Nasdaq futures were flat.