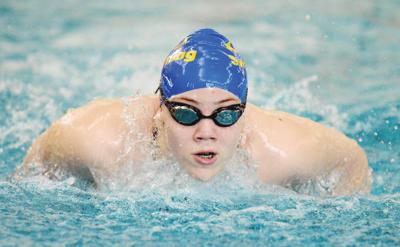 Amaya Rocheleau and Max Robinson paced Kodiak High swimmers at Saturday's Bartlett Invitational in Anchorage. 
In a loaded field, Rocheleau placed third in the girls 50-yard freestyle with a time of 25.88 seconds and fifth in the 100 backstroke in 1:05.58. The dual-sport star Robinson, was third in the boys 100 backstroke with a time of 1:00.03 and fifth in the 200 individual medley in 2:14.22. 
Support Local Journalism
Now, more than ever, the world needs trustworthy reporting—but good journalism isn't free. Please support us by subscribing or making a contribution.
By MAISIE THOMAS Fairbanks Daily News-Miner
In Alaska, Covid-19 cases are leveling off after reaching record highs during the Omicron surge, but a new and even more highly contagious variant is on the rise. The BA.2 variant of Omicron now accounts for over 50% of new cases nationally, and just under half of cases in Alaska, state epid…
LINDA F. HERSEY Fairbanks Daily News-Miner
North Pole Rep. Mike Prax was one of eight lawmakers diagnosed with Covid-19 Wednesday in an outbreak that has swept through the Alaska House.
By LIV CLIFFORD Fairbanks Daily News-Miner
Alaskans lost more than $13 million to suspected internet crimes in 2021, federal data shows.