QAnon influencers have suggested that Donald Trump gave a signal to the online conspiracy movement during his speech at a rally in Ohio on Saturday evening.
Trump spoke at a rally for Republican Senate candidate J.D. Vance in Youngstown in a bid to shore up support ahead of the upcoming midterms.
An instrumental track could be heard in the background as Trump told the audience that the U.S. was a nation in decline. As the music played several people in the crowd could be seen holding their index fingers in the air.
The song heard sounds not dissimilar to 2020 track WWG1WGA by a musician under the name Richard Feelgood. WWG1WGA, meaning "where we go one we go all," is a common slogan used by members of the QAnon conspiracy movement.
Newsweek has contacted a Trump spokesperson and QAnon analysts for comment.
The debunked QAnon conspiracy theory holds the former president is a messianic figure and claims he will expose Democrats, celebrities and business owners as being part of a global network of Satanic cannibalistic pedophiles.
Those in the movement have made numerous Trump has given coded signals and have made predictions that have failed to come true, such as the arrest of President Joe Biden during his inauguration.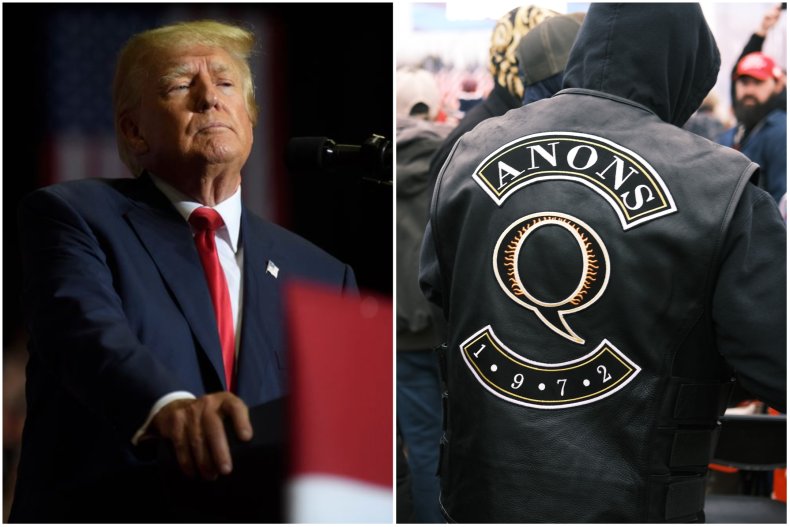 Media Matters For America, a left-leaning media analysts, noted Trump had previously used the song in an August 9 post on his social media platform Truth Social.
It added the video featured visual imagery of thunderstorms, which are regularly cited by QAnon followers who wait for an event called "The Storm" in which members of a supposed global cabal will be arrested and sent to be executed.
Trump spokesperson Taylor Budowich previously told Vice News the song was not Feelgood's, but a song called "Mirrors" by TV and film composer Will Van De Crommert.
But Media Matters claimed the audio profiles of both songs were "virtually identical" after it analyzed them using the audio editing software Audacity.
Following Trump's speech, QAnon influencers took to the social media platform Telegram to celebrate the ex-president's music choice and believed he had sent a signal to them.
Influencers shared images of the crowd holding their index fingers up and said QAnons, the conspiracy's followers, could even expect Trump himself to declare himself to be "Q."
"Q" refers to the person behind the online account who spread the conspiracy on internet forums while claiming to be a figure inside the U.S. government. There has been no evidence to suggest Trump or his team have been behind the account.
Stormy Patriot Joe, who has 114,730 subscribers on their Telegram channel, said: "DJT (Donald J. Trump) played the WWG1WGA music without the thunder and rain tonight at the rally. Could this mean we in the eye of the storm?"
The channel Ultra Pepe Lives Matter shared a photo of the rally with the WWG1WGA slogan and told their 208,490 followers: "Trump played the WWG1WGA song behind his speech yet again. I would like a formal apology from all the haters. Anons were right this entire time."
"Now would be a great time for another Q drop. My body is ready. Trump should just walk out on stage, tell everyone he's Q+, drop the mic, go board his plane and see what happens."
QAnon influencer Jordan Sather told his 84,610 subscribers: "Everyone in the front row of the crowd is holding up a '1' – (finger emoji) – while the WWG1WGA song plays in the background."
Truth Hammer, who has 71,675 followers, posted: "Trump playing clips from the WWG1WGA song again is a direct (middle finger emoji) to anybody upset by doing so.
"He's doing nothing less than identifying with a bottom-up grassroots take-over of the corrupt government, using a movement he helped start."
QAnon influencers have managed to gain influence among Republicans, with some GOP candidates even attending conventions hosted by members of the conspiracy movement.
Last year, several Republican State lawmakers and candidates attended the "For God and Country: Patriot Double Down," an event organized by John Sabal, who was previously known by his Telegram moniker QAnon John.
Among them was Ron Watkins, accused of at one time being behind the 'Q; account, who went on to run a failed campaign to represent Arizona for the GOP in the House of Representatives.
Former New York City mayor and Trump's former personal lawyer Rudy Giuiliani has also been listed as a speaker at Sabal's upcoming For God and Country: Victory Roundup scheduled to be held in Dallas between November 18 and 20.