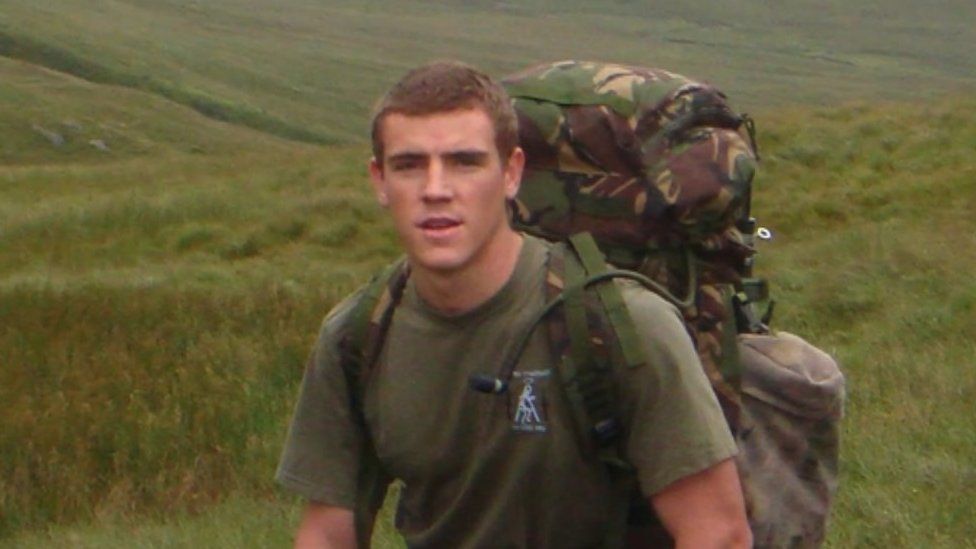 A special forces soldier who was paralysed when he was shot through the neck in Afghanistan has told of his experiences in a new book.
Ex-Royal Marine Toby Gutteridge from Poole, Dorset, was 24 when he was seriously hurt in the 2009 shooting.
In his book, he talks about how he rebuilt his life and overcame mental heath issues.
He also revealed he could have flown home two weeks before the shooting but did not want to leave his comrades.
Mr Gutteridge was born in South Africa but grew up in the US and UK before he joined the Royal Marines and then the Poole-based special forces.
He said he had suffered from drink and drug addiction but joined the British military "for a really strong challenge".
During his second posting to Afghanistan he was taking part in a night raid on a compound when he was shot through the neck – a bullet from an AK-47 shattering his C2 vertebrae.
"I was paralysed instantly. That was me, lights out, I just slumped to my knees and fell forward while the fighting continued around me."
He was eventually dragged outside where his colleagues stemmed the bleeding and kept him breathing before he was medically evacuated.
Despite the worst fears of the doctors treating him, he survived, but has been left needing a wheelchair and permanently linked to a ventilator.
He has documented the process of "rebuilding myself from scratch" in a book, Never Will I Die.
"I'd lost my entire identity – my job, my career, everything I'd built myself on. Joining the marines was all very physical and you build your identity around that.
"It was really tough – I reached a point where I didn't see the point in carrying on."
After getting "the right professional help", he eventually went back to college to do GCSEs and A-levels before graduating with a first class business degree at Bournemouth University.
"Life is precious and I was lucky enough to be given a second chance and I'm trying to make the most of it now.
"I've seen life taken away at the blink of an eye – it almost happened to me," he said.
In his book, he also revealed he turned down the chance of being flown home two weeks before he was injured, following a less serious shooting.
"We were a close, small unit – it's all about brotherhood and I didn't feel it necessary to go home and let anyone down," he said.
Mr Gutteridge has gone on to set up an extreme sports clothing brand which he said reflects his outlook on life.
"No matter how hard and tough life gets, there is always light at the end of the tunnel. It will get better," he said.
Some 454 British troops died during the conflict in Afghanistan, with thousands more injured.