The first time Alex Shterenberg called his father in Ukraine after the bombs started falling, the St. Louis University student could make out the sound of air raid sirens blaring through the walls of his father's apartment in Kyiv.
Henry Shterenberg, Alex's father, was at his apartment, near the city center. He was supposed to be in Poland for a business meeting but was forced to turn back when he came upon a military roadblock.
That's how Henry learned that war had started — watching tanks pass on the road leading to Belarus. Those were the first bits of information he could share with his son, who plays soccer at St. Louis University, when they talked that day.
They now talk morning and night, and Alex is helping his father with an initiative to engage students in Ukraine to tell their stories and rally them for what they ultimately hope will be the rebuilding of the country.
"I keep in contact as much as I can to make sure he's alive," Alex said. "When I don't hear from him for a couple of hours, it's hard not to assume the worst.
"For the first time in my life, I feel like I belong in Ukraine. I have the most passion of my entire life that I will carry with me forever. The first thing I want to do after this ends is go back and get immersed in that culture."
Alex was born in the United States after his parents and grandparents emigrated from Ukraine following the dissolution of the Soviet Union. He transferred to SLU from Michigan State last year to finish his soccer eligibility.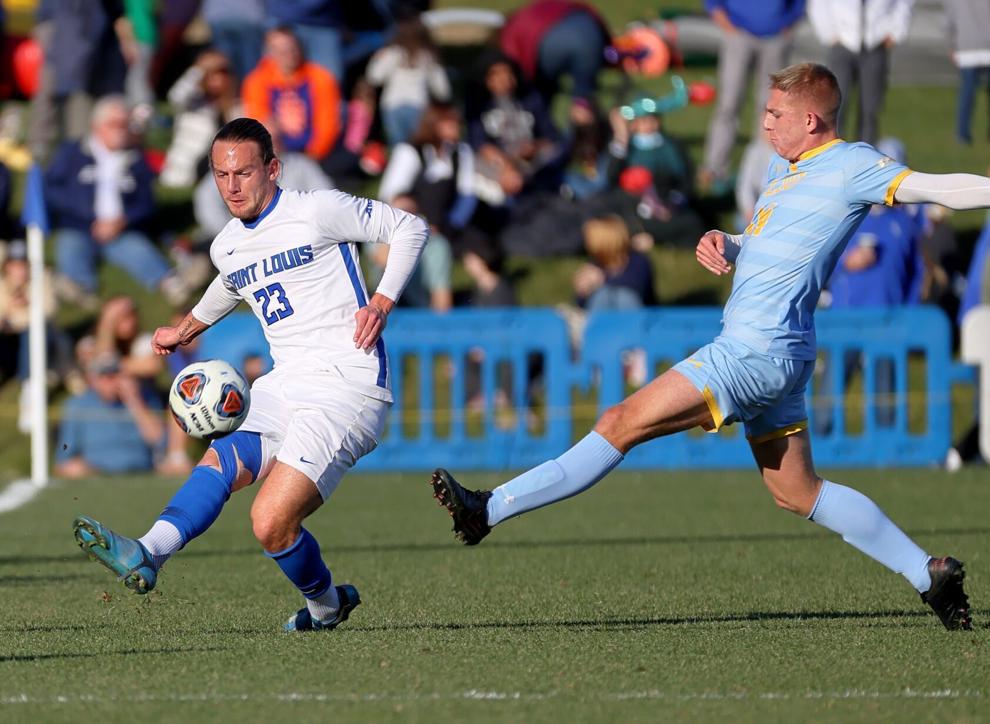 Henry, 50, is a businessman who has focused on drawing investors to Ukraine, a job that is on hold. His focus now is on raising awareness as the city where he was raised and played junior national soccer under the former Soviet system is being intermittently shelled within view of his fifth-floor balcony.
"It's hard to be safe because the TV tower blew up about a 15-minute walk from me," he said. "You hear enormous sounds and sirens. I drove for the first time (Thursday) to get some food, and the city is completely unrecognizable. I never would have imagined it would take a week to do so much damage."
While Alex will be playing a spring soccer game Saturday for SLU, his father simply hopes it will be safe enough to go for a walk in a park next to his apartment building.
Henry lives next to the U.S. embassy west of downtown, a spot he believes could be safer than some because he doubts Russian President Vladimir Putin would risk bombing it and sparking even more tension.
Alex was raised with his sister, Dasha, in Boston around Russian-speaking relatives and is fluent in the language. He visited Kyiv only once but has been surrounded by the region's culture his entire life and never has considered Russia an adversary.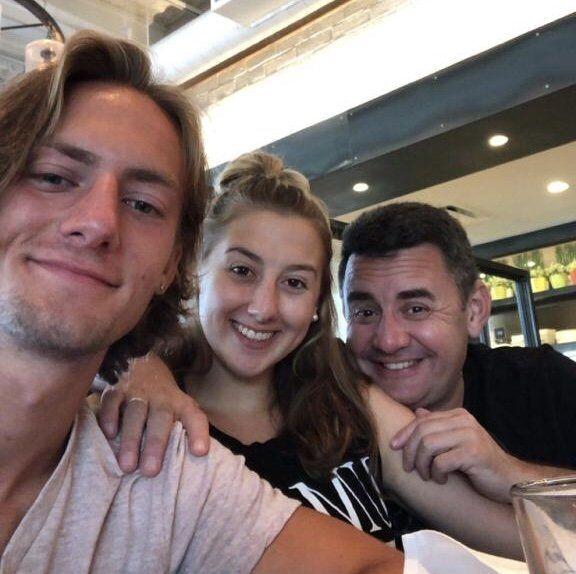 He had heard stories about day trips relatives took by train to Moscow. He has viewed Ukraine and Russia as brother nations. He has enjoyed many massive family dinners featuring food from the region, and he speaks Russian during his "mandatory" weekly or biweekly calls with grandparents. His connection to the country is strong.
"At the start of the war, I was completely wiped out because I sat on the couch watching the news for two days," he said. "Now it's destroying me. I can't sit like that and watch anymore not knowing how long it will go on."
So he spends time working with his father on a new organization that Henry named United Students of Ukraine, one he hopes will become a movement. Henry formed the organization before the war started with the goal of having college students around the country develop websites for communities there.
Alex helps with editing and posting student videos on social media sites, including Instagram. The hope now is to mobilize young people who will help rebuild the country.
"We had just started building the business model for how it can work," Henry said Friday morning from Kyiv. "We had to adjust, and now part of what we do is for students around the world to support Ukraine to change the image and show the world what it has to offer."
Alex started six games last season for SLU's soccer team, which was ranked in the top 10 nationally and reached the Elite Eight of the NCAA Tournament. He will return for the 2022 season, having already received a degree in marketing, with his sights now on a master's in leadership and organizational development.
He started playing soccer with his father and other Ukrainian and Russian residents in Boston. When he visited Kyiv, he went with his uncle to see the Olympic stadium. Now, the field where his father played as a youth is destroyed.
"I'm over here while kids younger than me are being given AK-47s and fighting in the streets," Alex said. "So I'll do as much as I can now by spreading awareness."
Henry Shterenberg likes to think he's safe, but what he's seen and heard is not reassuring. A Holocaust museum a short walk from his home was damaged and a bridge destroyed. An area near the zoo between his apartment and downtown came under fire. A residential area just west of his home was hit Friday.
Days mostly are spent inside with his toy terrier, Napoleon. He has been to the closest bomb shelters to get familiar with the space but has remained in his apartment to work on projects; he has also been interviewed by reporters from around the world. If necessary, he said, he will take up arms.
When Henry arrived in the U.S., he had practically nothing. Early on, Henry worked in a deli packaging meat, nibbling slices when he was hungry, Alex said.
By the time he returned to Ukraine five years ago, Henry's life was much different. Henry became president of the World Trade Center in Kyiv. He recently has worked on bringing development to his country, including the first "green city" in the country in Hostomel, where there has been significant damage.
One day, Alex and Henry hope to join forces in Ukraine to be part of creating a better future for the country.
"It's stressful and conflicting right now because life here is so normal," Alex said of St. Louis. "People are going on with everyday life, and in my head, my dad is stuck in the middle of a war."
Get local news delivered to your inbox!